Study-tour to Italy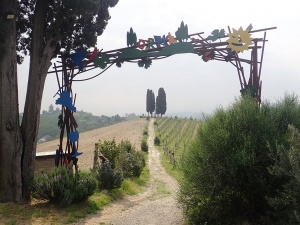 In pursuit of the successful implementation of the project "Areas of Inspiration", we conducted an analytical study of the best examples of how art can influence the development of rural areas. In April 24-31, 2018, we organized a study tour to Italy – a country which offers a rich array of such examples. 11 people, representing "Areas of Inspiration" project partners from Machaon International and Annogallery (Slovakia), MAS Straznicko and  Národní ústav lidove kultúry, NGO Tustan, Synevyr National Nature Park Administration, and Muusa Kaapriis (Vinnistu, Estonia)
Canale di Tenno
From abandonment to fame and recognition
Now one of the most beautiful medieval villages in Italy with well-preserved architecture, after the Second World War was almost completely abandoned.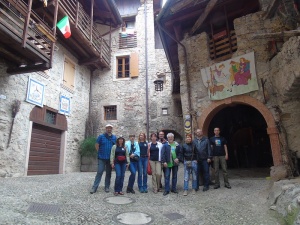 Thanks to the efforts of one amateur artist Giacomo Vittone the village started a new life. Arriving in Canale di Tenno, he was inspired by the unique atmosphere of its narrow cobbled streets, numerous arcades connecting stone houses, and also the picturesque Lake Garda and the high peaks of the Alps surrounding the village.
The artist not only worked fruitfully, but organized various events to attract other artists to work in the village. It gave such a powerful impulse for development that people returned here. Now the settlement is very popular among tourists and artists. House ''Casa degli Artisti Giacomo Vittone'' in the ownership of the commune serves as an art residence and gallery. It hosts regular art events that contribute to the further development of the village.
Thanks to a desire of one person great goals can be achieved.
Ostana
Art for development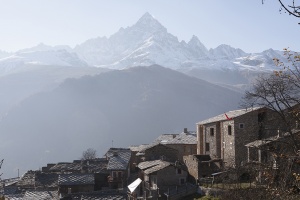 In the alpine village near Monte Viso in northern Italy at an altitude of 1,300 m a.s.l. a few decades ago there were almost no permanent residents left. The harsh mountain climate and hard work, together with the industrial development of the region, prompted the locals to move to other places. In the early 1990s, only 5 people remained in Ostana. But the situation changed completely thanks to a small group of enthusiasts.
When this group of creative people arrived in Ostana, they set a goal for themselves: to restore the village and its social fabric. To this end they were inspired by the special atmosphere of harmony between the village and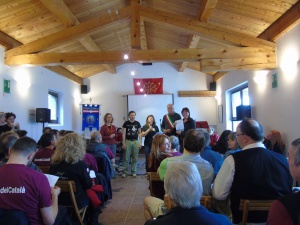 surrounding nature: arresting mountain mists, traditional-style buildings with stone roofs, murmuring streams and rivulets with pure spring water, peace and serenity.
They began to hold regular cultural events that aroused great interest among many people. Tourists started to come, which made it possible to attract funds for further restoration and development. All this contributed to the increase in the number of current residents almost ten times.
To achieve the result, sometimes it is enough to formulate one goal and work on its implementation.
Arte Sella
Ideas without people are of no use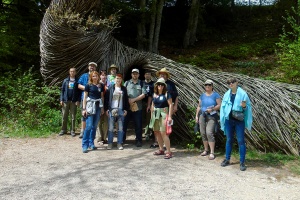 In 1986, a group of like-minded people decided to integrate modern art in nature. They started the cultural project "Artesella", which gradually grew from several initial artworks into a large territory with numerous large-scale objects of land art in the forest.
Every year new artworks are created here that reflect a continuous dialogue between art and nature. The project has become so popular that it was possible to establish an art residence for artists from around the world, and the tourist flow is constantly growing and brings significant income. This contributes to further development of the site itself, but of nearby villages as well.
Art is not only for aesthetic pleasure, but it can generate income.
Giovoni
Indifference is a prerequisite for development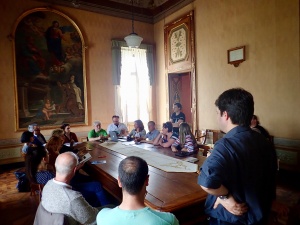 Giovoni castle could stand empty and it would not differ much from the numerous similar buildings in Italy, if not for the efforts of local residents.
It was they who took over the management of the castle, in the beginning on a voluntary basis. The income from entrance fees is invested in the repair of facilities and creation of amenities for tourists. In addition, regular cultural events are organized; in particular exhibitions of contemporary art and art symposia with participation of more than 40 artists annually are both an tradition now.
Through organization of cultural events local people promote their potential. Thanks to these efforts, the castle became famous and many tourists and artists pay visit to it.
The result is achieved by effort.
Verduno
Pleasure as a form of beauty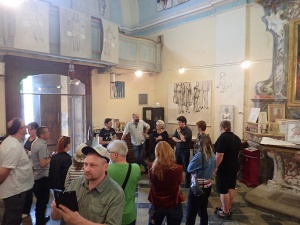 Verduno is a village with recognizable appearance attractive to many travelers and creative people. But it is more interesting than just any average village due to the presence of an artist Valerio Berruti. In the deconsecrated church, which he bought and restored in 1995, he is engaged in painting and sculpture using a particular style. His works are abstract, sometimes provocative and require thinking. Many of his sculptures are installed on the streets of the settlement or can be seen in his studio, which also houses an exhibition. Many fans of art visit him and his studio, which has a positive effect on local development.
Art provokes thinking that can lead to transformation.
Adamello Brenta
The unity of nature and art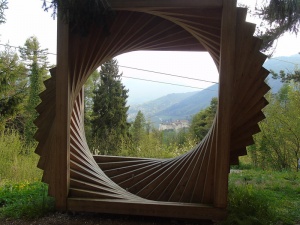 One of the largest nature parks in Europe not only takes care of nature conservation and recreation, but also uses art as a powerful tool in its management and development.
The Adamello-Brenta Nature Park is a unique territory with diverse landscapes and nature. It is composed of two different mountain groups facing each other: the Trentino portion of the Adamello plutonic range and the Brenta Dolomites, a World Heritage Site since 2009. The whole area is accessible via a network of hiking trails. However, the park has become not only a favorite destination for nature lovers, but also a cultural center. Art events have become a tradition here, too. Land-art objects dotting the area attract particular attention as artists try to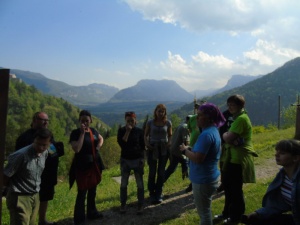 convey to the viewer a wide variety of ideas that are relevant in the modern world. Visitors who come here really like this combination of nature and art.
All, who come to visit, get an opportunity to enjoy the beautiful landscapes, at the same they can marvel at the art works harmoniously integrated into the landscape and inextricably linked with it, reinforcing the overall impression.
Beauty is scarce.
Posted by: Jozef Bednar, May, 4, 2018