Art-residence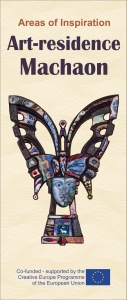 Art-residence Machaon is located at the outskirts of the picturesque village of Gánovce, well known for its healing mineral springs and paleontological finds, including a petrified brain of a Neanderthal man. The village is situated close to several national parks, one of them is Slovenský raj/Slovak Paradise famous for its unique and precious natural treasures: deep-cut river canyons, gorges with amazing waterfalls, a huge underground world of caves and rich diversity of fauna and flora.
Art-residence Machaon regularly hosts artists participating in art symposia and cultural events held in the village or in its surroundings. The unique setting of the art residence with amazing views at the Tatra Mountains and nearby forested hills coupled with comfortable and welcoming atmosphere at the house provide inspiration and creative space for the work of artists. In addition, artists have a special oven to work with enamel. They are encouraged to explore the area and to interact with local community, providing added value to their artistic work.
Besides art-symposia, we offer in our art residence co-working space and accommodation for artists, photographers, film makers, freelancers or specialists in preservation of nature and cultural heritage. Machaon International by offering co-working opportunity in its own art-residence fosters international collaboration and exchange of ideas for link-minded people interested to support its mission in helping protected areas and rural areas.
Rates and conditions are provided on request.
Our art-residence Machaon