Organisation of art-events
Machaon International provides assistance to protected areas, villages and open-air museums in organisation of art-symposia and plain air events. Our special competence is the development of art-residence programmes in attractive natural and authentic rural landscapes which serves as a magnet for creative people and support development in remote villages and national parks. Our team includes 2 experienced art-coordinators, 2 artists and a curator helping with organisational issues.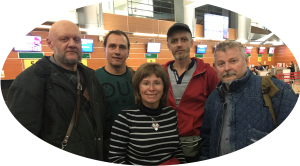 Services of our team could include:
creation of an event concept;
assistance in fund-raising;
involvement of artists through competition;
organisation of event logistics and programme;
arrangement and promotion of the event;
development of art-event catalogue.
As the result, our customers could get an unique open-air exposition, enamel or paintings gallery.
Arranged art-events