Margarita Zhurunova
(artist-designer)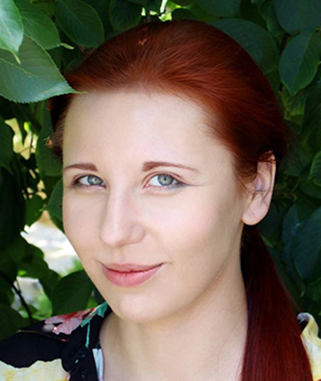 Margarita Zhurunova is a young artist and designer. In 2018 she graduated from the Ukrainian Academy of Printing (Department of Book and Easel Graphics) with a master's degree. Specialty "Fine, decorative art and restoration." Works in constant partnership with the artist Bogdan Lokatyr. The main directions of the group's artistic activity are book graphics (art-books) and land art. Together participated in many festivals and land art symposia, such as "Mythogenesis" (Vinnitsa, Ukraine, 2015-2019), "Border Space" (Mogritsa village, Ukraine, 2016-2018 years), "Nature and art (Botanical Garden of Vilnius University,  Lithuania, 2019), and many others.
In 2018, for the first time, they participated in the Machaon International project – in the land art symposium "Land of Power", as part of the "Territory of Inspiration" program, which took place in the Tustan State Historical and Cultural Reserve, p. Urich, Ukraine. Since then, Margarita has continued to work with Machaon as a designer of publications and exhibitions.
Why I love art-projects of Machaon?
I love how Machaon projects bring together artists from different countries. More acquaintances, communication, interesting cooperation. It is easy to create something good surrounded by talented people and beautiful nature. This gives new power to create.
Margarita in action