II enamel and ceramic symposium "Nature – Muse of Inspiration". Open call for artists.
Professional artists  are invited to come to Slovakia in order to create enamel and ceramic art inspired by nature, study new enamel and ceramic techniques and present art-works to wider audience.
In the period from 2 to 11 September 2022 for the II International Enamel and Ceramic Symposium "Nature – muse of inspiration" will be organised  in the picturesque village of Gánovce – well known for its healing mineral springs and paleontological finds, including a petrified brain of a Neanderthal man. The symposium will be organized by Art-residence "Machaon" in close co-operation with Annogallery.
The enamel and ceramic techniques were chosen  for their versatility, a variety of rich colors and textures.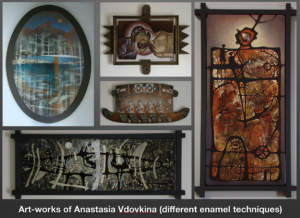 The symposium will be accompanied by rich cultural programme and will allow artists to participate in enamel and ceramic master-classes led by Anastasia Vdovkina, Peter Smik and the artists themselves. For example, Anastasia Vdovkina and Svetlana Tot will open secrets of "washing" technique (with translucent technical enamels (onush, loofahs), opaques), "blowing" technique allows you to achieve the finest airiness, and a "grated" technique, when with help of an emery stone and repeated firing, very picturesque "vibrating" color relationships are obtained.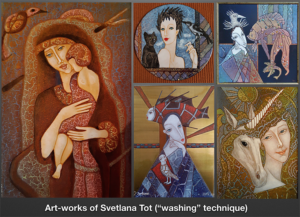 As usually, artists and local people will get-together evenings with warm atmosphere, participated in interesting excursions and will not miss the opportunity to swim in the famous healing mineral water of Ganovce and explore beautiful national parks Slovak Paradise and High Tatry.
We think the main basis of our success in Ganovce are local residents who sincerely love the artists and the wonderful creative atmosphere that they create. Children receive creative impulses, constantly turning around and listening to everything – and this is very much appreciated by their parents, who support such symposiums in different ways – from coffee and pies for the artists to their own volunteering help. We have formed an initiative group, which organizes symposiums, because one is not a warrior in the field. Artists can delve in our culture, have open communication, and at any moment any villager can come and see how masterpieces are created.
And this does not give rise to chaos, everything goes quite organically. And in every symposium we try to achieve a harmonious balance of work and rest – the program includes excursions and bathing in our famous mineral water. An important point – each symposium has its own theme and a noble idea which contributes to the development of the village and preservation of local natural heritage. Our focus is on the creative environment which lures artists to freely create and enjoy the process. Often they create great art in this way, and local people help them and become proud of their own village.
In addition, artists will have possibility to explore new market-oriented model of creative business in rural areas. We will visit  AnnoGallery, example of a small private art center, which organises very successful creative summer camps for children in a small village. We will show that when professional artists and creative people come to villages, this can help to improve socio-economic conditions and to promote these areas as attractive setting for creativity and recreation.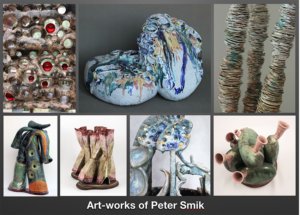 We will also demonstrate successful results of the project Areas of Inspiration supported by Creative Europe programme and initiate cultural cooperation with representatives of European Union's Eastern Partnership region.
Working Languages: Russian, English, Slovak, Czech
Cost of the programme:
Registration fee 460 EUR covers costs of 4 master-classes, materials for art-symposium, costs of using enamel and ceramic ovens, organisation of exhibition and digitalization and further promotion of art-work created.
In addition, participants of art-symposium should pay accommodation (art-residence Machaon or rural guest houses), meals, local transfers, excursions, swimming in mineral water – 10 days x 60 EUR = 600 EUR.
Total cost of art-symposium for 10 days – 1060 EUR.
Travel expenses, visa cost, medical insurance, COVID tests participants cover by themselves.
Important! Artists from Armenia, Azerbaijan, Georgia, Republic of Moldova and Ukraine have great chance to apply for mobility grant (max sum is 1500 EUR) under the EU4Culture: call for mobility scheme for artists and cultural professionals in Eastern partner countries, deadline is April 8 2022. We could help to design all necessary documentations, please do not hesitate to ask  assistance!