Land Art Symposium "Land of Power"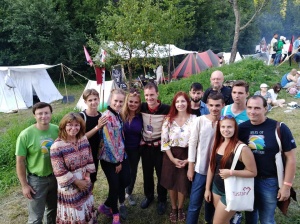 The unique historical and cultural reserve Tustan in the outskirts of the village of Urych from July 28 to August 4, 2018 turned into an area of inspiration, where 11 artists from Belarus, Poland, Russia, Slovakia and Ukraine came together to participate in the Land Art Symposium "Land of Power". Inspired by the beauty of the place and its rich history, using only natural materials, most of them locally sourced, they created 12 large-scale art objects fitting harmoniously into the surrounding landscape, demonstrating the unity of nature and art and highlighting the peculiarities of local folklore and cultural heritage.
During the symposium, the artists stayed in the village, enjoying a chance to explore its vicinity, to meet with local residents, to try local cuisine and to learn about the history of the region. A spectacular conclusion of the week-long symposium was the presentation of the created art works during the festival of medieval culture "TuStan" which lures many thousands of visitors to the site. The festival, which also impressed the participating artists, converted the historical and cultural reserve Tustan for 3 days, thanks to many enthusiasts dressed in old costumes who re-enacted medieval culture through knights' duels and craft fairs, into a place of revived history with the atmosphere of the Middle Ages. During the festival, there were 28 different creative workshops, with the participation of 280 children, many of them local schoolchildren.
The results of the symposium would be not possible without 18 volunteers (most of them local people) who were engaged in the art creation, in particular in tasks which required a significant amount of physical work. They helped to deliver the necessary materials and to install the art objects on their final spots. Thus, they felt they were part of the creative process and had a chance to take a new look at Tustan, realizing the great potential of the area.
Over the past 13 years, Tustan has welcomed various artists, however, an international land-art symposium was organized there for the first time. The large impressive objects that have been created are aesthetically enriching the historical reserve's territory and contribute to the better appreciation of the area's values by locals and visitors alike. There is a plan to hold such symposia regularly.
Posted by Svetlana Belova, August, 3, 2018