Exploring the creative mountains in Austria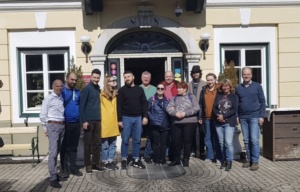 In pursuit of the successful implementation of the project "Creative mountains", we arranged an analytical study of the best examples of how enhance the value of mountain rural areas through culture and creativity. On March 26 – April 1, 2023, we organized a study tour to the Austria, a country which offers a rich array of such examples. 11 people, representing "Creative mountains" project partners from Machaon International, Slow Food Tatry association, Tourism Organization Slovak Paradise & Spiš, Vernar and Hrabusice villages (Slovakia), NABU Armenia, Local action group Kazbegi (Georgia) and marketing agency Forest.
Creative marketing and partnership for sustainable development of mountain region.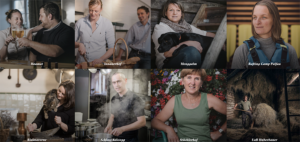 We started our tour from studying an excellent example about the national park Gesäuse working together with regional companies and creating a partner network. Farmers, inns, accommodation providers, mountain guides, craft businesses and other companies cooperate for the sustainable development of their region in the heart of Austria. The Gesäuse partners  – there are over 100 – love their region and are interested in cooperation, fully support the values of the national park and nature park and work together for their businesses, the parks and a future worth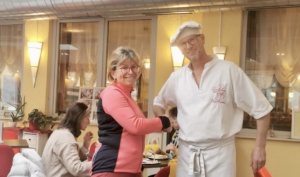 living in the region. Such a network of partners does a lot to create a positive image of the park. It is important to mention that the Gesäuse before the founding of the national park had lost much of its former tourist importance and more than 30% of the tourist businesses were closed. By concentrating the region's creative marketing on the values of the national park and through the cooperation of the partner companies, the number of overnight stays was increased by 22% in 7 years and tourism in the region was revived.
Firstly we visited the Gesäuse Tourist Association responsible for the marketing and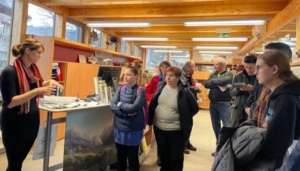 ensures a uniform appearance and a better perception of the businesses. Tourism association in cooperation with national park administration achieved great results in creative promotion of tourism potential of the region first of all throughout the creation of high-quality and attractive "visual language" and using modern digital means (i.e. targeted advertising in social media and involvement of influencers), so for our team it was the great inspiration. However it was clear for all of us that national parks in Slovakia, Armenia and Georgia are not so actively integrated in regional development, so at least Slovak and Georgian partners will try to motivate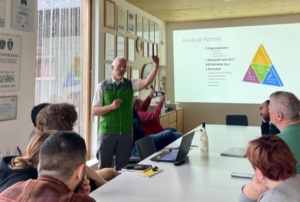 national parks Kazbegi and Slovak Paradise to start similar work with partners. May be, film about Gesause partners we created not long ago will help to involve national parks to cooperation.
The Gesäuse National Park, the Steirische Eisenwurzen Nature and Geopark and the Gesäuse Tourist Association help local companies and manage the partner network. The partner companies, for their part, inform their customers about the protected areas and distribute their publications. During the presentation in the office of the national park Gesause, we got opportunity to know how national park involve photographers to cooperation and further promote tourist destination and partners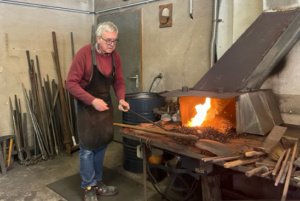 in creative and innovation way. Interesting what database of high-quality photos could be used by different actors in the region.
Usually, we try to use our study-tours for the development of cultural cooperation and friendship. In Gesause we organised friendly musical-gastronomic event with national park employees and partners, played music, singed songs, presented culinary heritage and vine from Georgia, Armenia and Slovakia. Among partners of Gesause we found musicians, artists and craft masters. We also used the opportunity to invite all to our festivals to be organized this summer.
Creativity provokes thinking that can lead to transformation.
Food as the cultural heritage and magnet for tourists.
After Gesause we visited alpine valley Gailtal in Carinthia close to the border with Italy where gastronomic traditions became an unique tourism experience.  First Slow Food travel destination was established here, and our team was happy to meet its' main creator Eckart Mandler and several heroes of good taste – food producers (farmers), baker, cooks, restaurants and hotels owners.
Eckart Mandler shared with us the very interested experience of how Slow Food and Slow Travel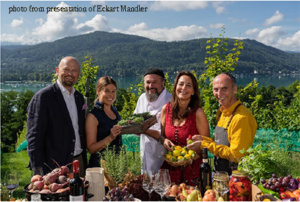 became a successful model for Carinthia via presentation "Journeys to the roots of the good flavour as chance for regions off the tourism stream". We got chance to knew how Slow Food Travel offers a new model for tourism, made up of meetings and exchanges with farmers, cheesemakers, herders, butchers, bakers and winegrowers who, along with the chefs who cook their products, will be the narrators of their local areas and unique guides to the local traditions. Since our project "Creative Mountains" is aimed at the creative promotion of mountain regions, we took note how to present our project areas in an attractive destination where food and the quality of food could become an essential motive for travel to the especially Armenia and Georgia famous by their culinary heritage.
Hans Steinwender, hotelier, organised very delicious slow-food lunch for us and excursion to the farm there explained how food grows and matures, which processing steps are consciously taken with care and appreciation, and how tasty the different products end up tasting. During the excursion, we explored creative approaches to visual presentation of idea of sustainability in different corners of the farm, hotel and restaurant, i.e. banners with information how to care about landscape and domestic animals, how to separate waste, how to sale local products, promote food as valuable heritage and guardians of this heritage.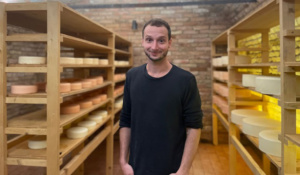 Further we visited several heroes of good taste – farmer Brandstatter who found good way to growing old varieties of corn and their successful sales, baker Matitz who use old recipes and bio flour, Ertl shop of regional products, slow-food restaurant Gasthof Grunwald supporting local farmers. It was a real surprise to meet a young farmer and cheese producer Zankl who love the region, does a lot for meadows conservation and produces a very testy cheese. Unfortunately in such a beautiful and well-developed rural region a lot of young people do not want to stay in villages and leave to cities. May be they will come back soon?
Giving the product time, treating nature and its valuable resources with care – that is the heroes of good taste want to convey to Carinthia region guests.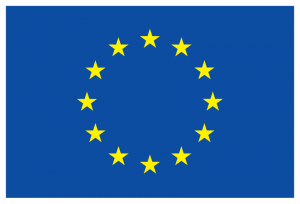 Study-tour was organised with financial support of European Union