Exhibition "Areas of Inspiration" presented in Danilo Re Memorial 2019
From 24th to 27th January 2019 the exhibition "Nature – muse of inspiration" was presented by Association for Nature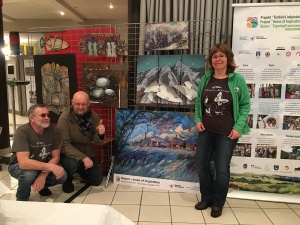 Conservation Machaon International at the 24th "Danilo Re Memorial" held in the beautiful French nature reserve Contamines-Montjoie. The exhibition allowed about 300 participants of the event to admire a selection of delicate art created in the villages of Ganovce and Horka in Slovakia to promote unique natural sites – areas of inspiration.  e exhibition was accompanied by Alexey Sheboldajev (professor of art, art-coordinator of Machaon's activities in protected areas) who actively drew new pictures during the whole event. He explained why artists love parks and how they can contribute to better public awareness about these precious natural areas.
The "Danilo Re Memorial" is a trophy competition dedicated to remember a ranger from Cuneo (Piemont, Italy) who died
during his service in 1995. Since then, the event provides the occasion for rangers and other employees of the protected areas and conservation NGOs to meet. It is a great celebration of sport, healthy lifestyle and friendship between mountain parks and NGOs from the Alps and since 2017 also with representation of the Carpathian protected areas represented by the Machaon's team. 
Alongside the competition in four sports disciplines by four members teams, the event includes thematic seminar and the ALPARC General Assembly. The seminar this year was dedicated to environmental education for youth in mountain protected areas. It included presentations from various protected areas as well as face-to-face workshops. Machaon's experience of involving talented artists to work for promotion of protected areas aroused great interest of the colleagues. The occasion allows to build new friendships and working contacts, to promote ideas of the project "Areas of inspiration" and unique Slovak nature among the Alpine colleagues and maybe one day also to have joint projects.
This year the competition had 50 teams from seven countries and 31 different protected areas, NGOs and local governments.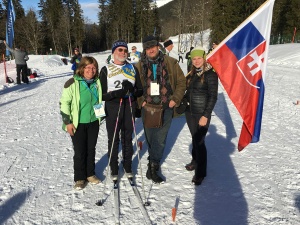 The Slovak team was composed of Olga Belova, Pavel Baharev, Tomas Harach and Alexey Sheboldajev. During the apres-ski programme, each team brings some culinary specialities from its particular region to share them during the evening Alpine buffet. Slovakia was generously represented by meat products from Knizka butchery, cheese specialities, local sweets and drinks. All these were much appreciated by the Alpine colleagues.
It seems that it's time to start training for the next memorial, because we have so many good-spirited people and wonderful opportunities in the Slovak national parks!
Posted by: Svetlana Belova, January, 29, 2019